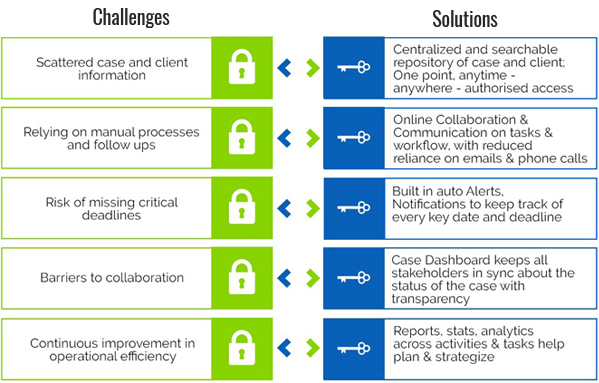 As a professional if you are managing multiple projects, matters and cases manually, or using a combination of spreadsheets, programs, apps and software; there is a huge possibility that unintentionally some bits may fall through the cracks. This could mean missing hearing dates, crucial deadlines or meetings, which can adversely impact your client, the matter, and your reputation.

myKase offers a cloud based legal matter management system, which allows you to access and manage all the Matter informationon a single click, from anywhere, at any time. The entire information is available in a Secure, Searchable, Centralized repository.

The Matter Dashboard enables a user to zoom into the micro-details of a matter and zoom out to a holistic view of the matter in hand. With this law matter management software, tthrough a single screen, you can view all the matter related information including Tasks, Documents, Communication& Messages, Activities, Team Members, Client Contacts, Court Hearings, Time Entry, Key Dates.

The intake of the matter is integrated into the legal matter management system. The master file of the matter in addition to the basic details includes:


Statute of limitation with alerts & reminders
Filing & Refiling Date Alerts
Matter information report in courts format, printable
Extra party
information
Matter Alert for court hearings & orders
With myKase you can now:
Manage Matters, Cases, Projects
Brings all the people, files, data, tasks, timelines, and notifications that surround your cases &projects together in one place.
Create new matters, classify, add descriptions, owner, parties involved & contact person/s
Capture & edit variables viz., court details, matter type, matter details, category & issues, opponent party & lawyers detail
Instantly and securely share files with controlled access.
Create and edit documents and maintain version of documents
Scan and upload multiple matter related documents
Define ownership, team involved, notifications required
Maintain confidentiality of Documents
Do away with following up with various team members and scouring multiple sources for information
Full Data Security: No instances of lost files
Keep track of every key date & deadline coming up for each matter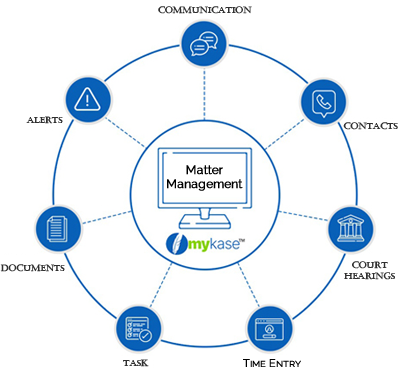 The challenges in the conventional approach to law Matter Management are :
Ineffective coordination among multiple teams and outside counsel /consultants
Managing matters and disputes across various geographic locations
Lack of bird's eye view and insights on pending and open matters across the organization
Storage and retrieval of physical records
Inefficient leveraging of organised institutional knowledge
Records and monitoring of expenses
The legal matter management software solutions are Technology enabled solution, which help practices in effective management.
Single repository of multiple documents and their build up viz. annexures, supporting documents, versions, drafts, notices to replies, appeals, pleadings, orders, related judgments, other research material, important e-mails.
Allows users to keep all of important information, dates, deadlines, case brief, previous hearing details, notes, communication, etc all in one centralized place. Sets automated alerts and reminders for court hearing dates and allows you to sync your Outlook and other calendars with the same.
Accuracy and time saving due to complete case history and guidance at one place
Mitigates risk of taking inconsistent positions, since matter / issue wise insights are readily available.
Reduces errors of omission and duplication
Improved strategy using data analytics and insights
Easier collaboration with internal and external counsel
De-risking delays, errors ,loss due to change of team
Take your work with you wherever you go and don't miss out on deadlines and dates
Better communication ensure minimum dependency and maximum time utilization.
Recording all expenses becomes very easy. You can get ready reports for budgets, spends, schedule, aging, etc.