Never let a single notice slip by !
Every time a legal issue comes to a law firm or a legal department, be it a cheque bounce or a vendor default, a property issue or family dispute, sending and receiving notices is the first step. These notices then land in multiple inboxes, individual spreadsheets with no tracking or repository. Further, with each notice, the number of subsequent tasks to be handled by the legal team increase exponentially. In the midst of all this, it is natural to have notice requests and reply deadlines that overlap and dates/responses missed; consequence of which requiring their own set of remedial tasks to be handled.

Ineffective Notice Management results in progress getting lost, dates being missed and non conformance resulting in severe consequences.

Not Anymore!

myKase Notice Management Tool helps manage the end to end Life Cycle of Notice Management. Click here for Slide Deck.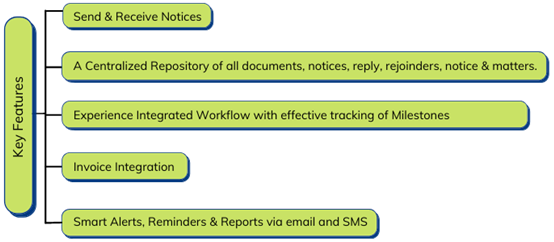 The Notice Management Solution from myKase helps eliminate the challenges being faced by legal professionals with effective solution which are intuitive, easy to adopt and have substantial productivity gains.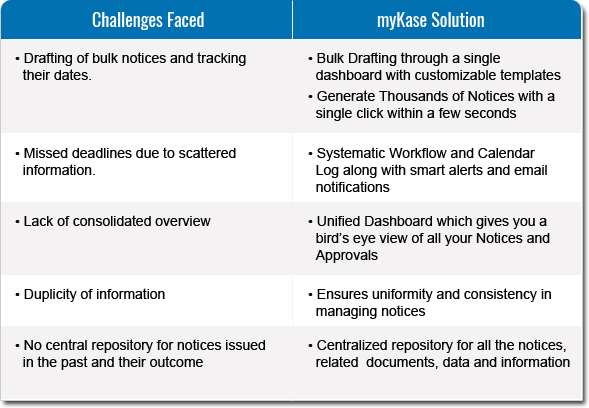 The key advantages:

Entire lifecycle of a notice is managed by your team on mykase.
Ensure access to relevant documents from anywhere with a centralized searchable repository and customized dashboard that allows for effective use of resources.
Draft thousands of notices in a matter of seconds, categorize, filter, search notices - seamlessly integrate it to a matter when required.
Never again miss a deadline or face non-conformance with mykase standardizing approval workflows, smart alerts and Calendar Log.
Enjoy real time effective communication between internal associates and external clients via the mykase client portal.
Never switch multiple applications with legal tools, invoice management and digital signature integrated with mykase.
Integrated with India Speed Post service. Input the date of dispatch and speed post consignment no to receive automatic email alert of delivery.